Tina Davies UK - VAT # 229884558
I ❤️ INK Sunset Collection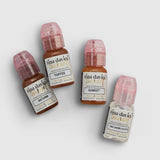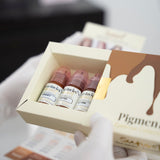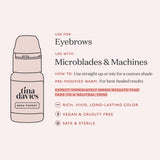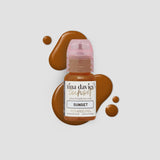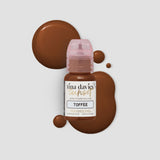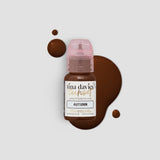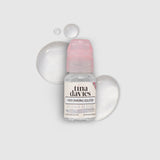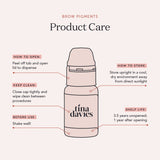 Tina Davies UK - VAT # 229884558
I ❤️ INK Sunset Collection
Stay golden with this trio of warm red-to-brown shades, designed for redheads with cool undertones and to use as warm modifiers.
In the kit: 0.5 oz bottles of Sunset, Toffee, Autumn and Shading Solution + easy-to-use color chart
Pigment undertone: Warm
Skin tones: Fair, pink, beige and olive (Fitzpatrick 1-3)
Hair colors: Red, auburn and medium brown
Corrects: Orange/salmon, red/pink, green, purple, blue and grey faded PMU
Learn how to easily select the right color for your client using I ❤️ INK in our exclusive Beauty in Color online course on The Collective.
Pigments, Aqua, Glycerin, Rosin, Hamamelis Virginiana, Isopropyl Alcohol, Benzyl Alcohol
Vegan
Cruelty-free
CTL certified
Sterilized by gamma radiation
Made in USA
CPNP registered
BVL registered
3-year shelf life unopened. 1 year once opened
Documents:
This special collection features warm colors for all your ginger and redhead clients. The real magic is in its golden undertones that will bring any cool brow to life. This line is your BFF for all touch-ups!
Pigment Breakdown:
Sunset: Glowing and golden. This light value pigment can be used on its own to achieve a gorgeous strawberry blonde tone or use it as a warm modifier to add some extra warmth. Fitzpatrick 1-2.
Toffee: Toffee-toned perfection. This warm reddish-brown pigment is perfect for clients with red hair. Use it on its own or as a warm-modifier for any color. Fitzpatrick 2-3.
Autumn: A deep autumn hue. This warm, dark-value pigment is ideal for clients with darker red or auburn hair. Use it on its own or as a warm-modifier for any color. Fitzpatrick 2-3.
Shading Solution: The best solution for developing a lighter, more sheer color especially for shading purposes. Dilute your pigment at your chosen ratio in your pigment cup before a procedure.
Talk to product expert